Omaha Yoga Path Post
The Six Mantras
June 16, 2012. 99-minute dharma talk by Thich Nhat Hanh from Upper Hamlet in Plum Village during the 21-Day Retreat with the theme The Science of the Buddha. The talk is given in English and this is the eleventh dharma talk (of 15). The podcast is available at this link.
1.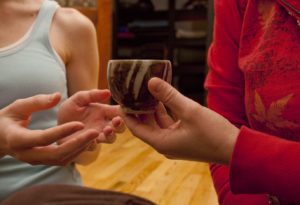 Darling, I am here for you.
2. Darling, I know you are there and it makes me happy.
3. Darling, I know you suffer.
4. Darling, I suffer, please help.
5. This is a Happy Moment.
6. Darling, you are partly right.
The last one is new and for when someone congratulates or criticizes you.
Students at the Yoga Path have been invited to share images of the meditation space in their homes. Here are some of the initial entries.
"One of the most important ways you can transform your home space is to make a place to sit. Creating a peaceful sitting area can transform your whole house. This also an important way to support your meditation practice. If we sit in the same place each day, it takes us less and less time to remember to stop and return to our breath. Here, in this place, our bodies and minds can help each other relax"  Thich Nhat Hanh
June 4th, 2014
Posted in Stories
No Comments
This weekend I attended a Mindfulness Retreat in the Tradition of Thich Nhat Hanh.  It was put on by the Heartland Community of Mindful Living lead by the dharma teacher Joanne Friday.  It was a transformative and refreshing experience, but that is not what I want to talk about right now. What I want to talk about it this women I met there. Perhaps some of you have heard of Dr. Mary Pipher.  When I was talking to her I didn't know who I was talking to.  Now I know.  Author of Reviving Ophelia and her most recent book The Green Boat: Reviving Ourselves in Our Capsized Culture.  Here is a talk she gave recently about her newest book.  I believe there is significance in that I would me this women in context of this Buddhist retreat.
http://www.youtube.com/watch?v=ViiKaiXlZJU
November 4th, 2013
Posted in Stories
No Comments